Africa currently supplies 10% of Europe's gas. This number is expected to increase over the next three years. Italy, for example, which is heavily dependent on Russian gas, is expanding its contacts to import more African hydrocarbons.
Rome recently signed a liquefied natural gas supply contract with Brazzaville. Agreements have also been concluded with Angola, Algeria and Egypt.
"We no longer want to be dependent on Russian gas, because economic dependence must not become political subjugation' said Italian Prime Minister Mario Draghi.
For Umberto Triulzi, Professor of Political Economy at the University of Rome, Sapienza, "we are too dependent on Russia and we need to reduce that dependence. But it's not something you can do in a month. So maybe we can significantly reduce imports from Russia in the next two or three years. But so far we cannot replace these imports, especially oil."
German Economy and Climate Minister Robert Habeck was in Qatar last March to talk about gas
Also read →Germany imports gas from Qatar
logistical challenges
Gas import from Africa, a big challenge. We need infrastructure, especially gas pipelines, and therefore high investments.
"The countries that we have agreements with in recent years, like Algeria, Libya, Qatar, Congo, all these countries, we have asked them to increase their exports to Italy and we have to do it in other ways. For some of them like Algeria, Libya and Azerbaijan we have pipelines but for others we don't. So we need to build pipelines and gas pipelines, and "a regasification plant. But we don't produce it, we have to buy it, countries that produce it, like Korea. So that's a lot of investments that we have to make and that, once again, requires time, resources that we don't have that much at the moment because of the crisis." explains Umberto Triulzi.
Also read →Africa, the possible alternative to Russian gas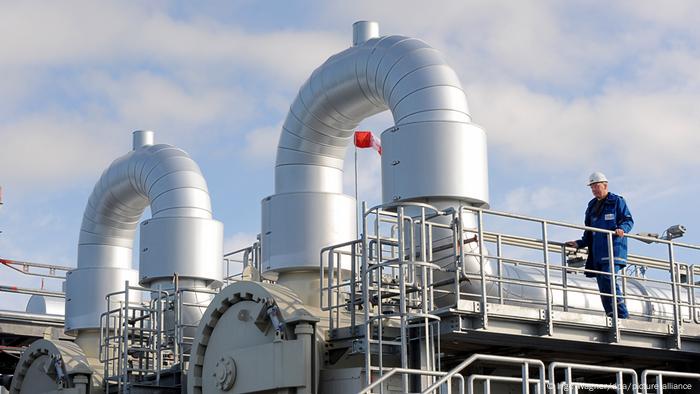 Natural gas storage facility in Jemgum, Germany, on the border with the Netherlands
Reserves for over 60 years
For NJ Ayuk, Executive Chairman of the African Energy Chamber, Africa has gas to sell to all of Europe.
"Gas to supply Europe and also Africa. Africa has had enough. We have more gas than oil in Africa. We have enough reserves in Africa to supply Europe for the next 60 to 100 years. But investments are necessary. There are huge amounts of gas in Nigeria. Once these projects begin, Mozambique will go from zero to the third largest gas producer in the world. So there is so much gas that has been the subject of natural gas investment, development and exploration that Europe thinks is great' explains NJ Ayuk.
Nigeria is Europe's fourth largest supplier of liquefied natural gas. At least 40% of Nigerian gas is currently exported to Europe. A continent that wants to sharply reduce its dependence on Russia, from which it imports almost 45% of its gas.
This Wednesday (04/27/2022) the Russian concern Gazprom announced that it had stopped all its gas supplies to Bulgaria and Poland, and assured that these two member countries of the European Union had not made any payments in rubles.
Also read →Can Vladimir Putin shut off the gas tap to Europe?