This is news that gives bathers goosebumps: the water in public swimming pools in certain cities is lowered by one to two degrees. "Putin's war" is to blame, the tabloids complain.
The Russian-led war in Ukraine has actually exacerbated the already tense situation in the energy market. And that's why it's the rising prices and the fear of gas shortages that prompt the municipalities to take such measures.
But industrialists in particular are worried about a possible cut in Russian gas supplies and in particular sectors with high energy consumption such as steel or glass. This is the case, for example, at the steel foundry FWH Stahlguss in North Rhine-Westphalia.
Steel and glass at the forefront
The steel foundry Friedrich Wilhelms Hütte (FWH) in Mülheim an der Ruhr is threatened with closure if the supply is interrupted
This iron and steel factory produces metal elements for trains or bridges. The company's managing director, Lars Steinheider, sees the consequences of stopping gas deliveries categorically.
"A cessation of the gas supply would lead to an immediate cessation of operations here in Mühlheim an der Ruhr."
The needs in the glass industry are also immense. Eight million bottles and other containers go through the Wiegand chain in Bavaria every day.
The glass is liquefied at 1,600 degrees in melting tanks. But if the heat isn't maintained, the glass hardens, as Nikolaus Wiegand, the company's managing director, explains.
"The glass melting furnaces would become inoperable and likely to shatter. The heart of our industrial base would collapse."
Melters are difficult to replace and the company would have to wait months for new ones. And according to Nikolaus Wiegand, that would be felt throughout Germany, because the company produces 25% of all glass bottles and containers, and the trend is rising.
"It's a 24-hour business. If production stops for a month, two months, three months, a year, two years, some products just don't get packaged."
Listen again → Germany's dependence on Russian gas (See from Germany on February 2, 2022)
recession is imminent
According to the Halle Institute for Economic Research IWH, a reduction in supply would lead to a 2% decline in German economic output. And an associated increase in the unemployment rate in the industrial regions.
Because the share of Russian natural gas accounts for 65% of consumption by German industry, which explains the government's reluctance to shut off the gas tap itself to put pressure on Moscow.
Vice Chancellor and Economics Minister Robert Habeck has been traveling through Europe and elsewhere for weeks to find alternatives to Russian gas.
German terminals for liquefied natural gas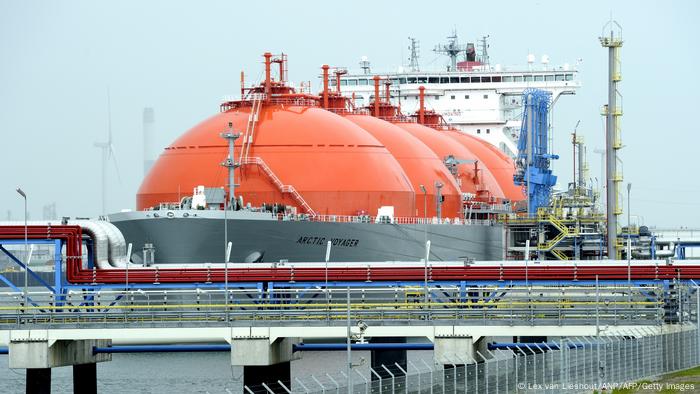 Unlike in the Netherlands, there are still no terminals for processing liquefied natural gas in Germany
One of these is liquefied natural gas, which could be supplied by Qatar and the United States. However, Germany does not currently have terminals that can convert this gas, which arrives in liquid form, into a consumable product.
The construction of LNG terminals was therefore urgently initiated, as Robert Habeck emphasized a few days ago.
"The LNG terminals are being built at full speed. Compared to the usual construction times in Germany, I would almost say it is the speed of light. We'll see how long it takes, we won't." We have no experience with construction progressing so quickly. But yes, when they are there, it will secure part of the natural gas imports from Russia."
Three billion euros are planned for the construction of LNG terminals in order to deliver liquefied gas directly to Germany from next winter.
No wind turbine without gas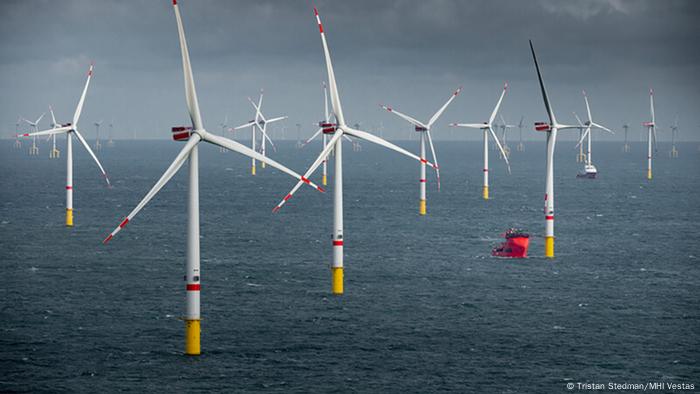 To build some parts of the wind turbines you need steel and therefore gas
At the same time, the government wants to promote the expansion of renewable energies … and in particular the expansion of wind power. But here, too, we won't be able to do without gas in the foreseeable future, warns Lars Steinheider, managing director of steel foundry FWH Stahlguss.
"Each wind turbine, 5 megawatts offshore, counts 100 tons of castings, machine carriers, rotor hubs. If these were no longer available, it would not be possible to build new wind turbines."
Alongside efforts to reduce dependence on Russian energy, the federal government on Monday announced a reform of its Energy Security Act, passed at the time of the 1975 oil crisis.
Ensuring energy security
The reform should make it possible to place critical energy supply companies and infrastructure under public supervision or even expropriate them if necessary.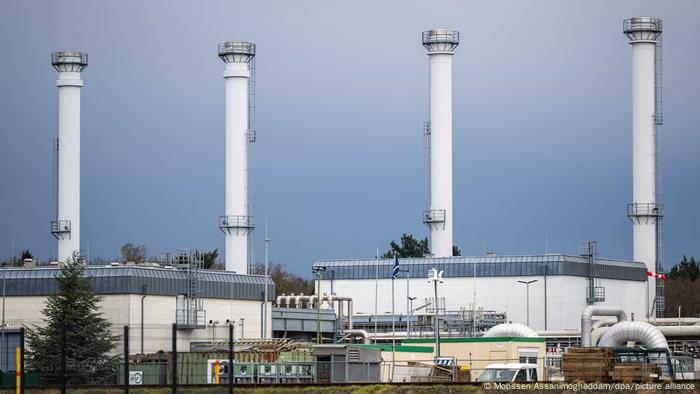 Europe's largest natural gas storage facility in Rehden is operated by Astora GmbH, a subsidiary of Gazprom
Without naming them, this affects the representations in Germany of the companies Gazprom and Rosneft, which own most of the storage locations and the energy distribution channels.
Also new: a digital platform for controlling natural gas consumption. The companies have to register and indicate the required quantities. The government could then prioritize key sectors in times of crisis.
These measures will be implemented if the crisis worsens.
According to the Economics Ministry, Germany's dependence on Russian oil has already fallen, from 35% to 25% at the end of March. By the end of the year, Berlin wants to be practically independent.
European countries have already issued a ban on Russian coal imports within four months. However, the European Commission does not expect to be able to completely free itself from dependence on Russian oil and gas until the end of 2027.
++++++++++++++++++++++
Germanophilia in Ivory Coast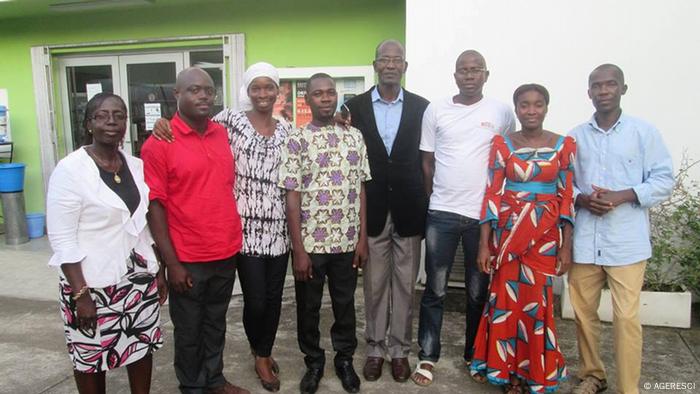 The Association of German Studies in Côte d'Ivoire and its President Kouamé Bernardin (5th from left)
The German language is popular in Côte d'Ivoire! It is the country in sub-Saharan Africa with the most learners of this language. Why ? Listen to the report of our correspondent Julien Adayé who followed the first days of the German language in Abidjan. And what could be more obvious than starting with the national anthem of the Federal Republic, sung by a choir in German!
Seen from Germany is a weekly radio magazine, proposed by Hugo Flotat-Talon and Anne Le Touzé, broadcast on Wednesdays and Sundays at 17:30 GMT and also available as a podcast. Contributors to this issue: Fabian Dittmann (testimonials from manufacturers) and Julien Adayé (report in Abidjan). You can find all numbers in the media library, to listen to online or to download in MP3 format. The podcast is also available on some podcast platforms.