It's a night out for rap lovers announced this Saturday at the warehouse. In fact, after the Ambrosia collective show, the famous Georgio will be the big guest in Arlon. 2021 marks the release of his 4th work, Sacred, for what is widely recognized as one of the most talented storytellers of his generation.
From 8 p.m. and for a good start into the evening, the Ambrosia Collective will take the stage to offer you their many musical horizons, skillfully mixing Electro House, Future Beat, Neo Soul, Rap & RnB. rebelliousthree MCs with strong but complementary personalities with a certain sense of rhyme and well-placed, round and spicy punchlines. Mr ClassicEnglish speaker and real human jukebox, endowed with an unstoppable technical mastery and Maruunique vocal grain that effortlessly puts its musical stamp on all registers and shapes the spirits.
After the Ambrosia EP, a veritable eight-track listening drink, the artists strengthen their ties by forming a real collective: their alliance reinforces their desire to make their mark together and individually.
Georgio headlining
To continue this evening dedicated to rap, it is the famous Georgia who will be on stage. The 28-year-old French rapper, who has tens of millions of views on Youtube and has been certified gold, announces an incredible show for the presentation of his 4th work in Arlon.
However, the time that has acquired the new habit of appearing to us longer than before has not overdone it as far as Georgio is concerned. Because it's actually been two years that we've had to make up for his discographic absence by releasing his three previous albums, Bleu Noir, Héra and then the bold XX5, uppercut rap orchestrated by big names – Woodkid at the helm – from across the universe a priori, revisit very different from his, the latest proof so far that the young MC from the 18th arrondissement of Paris would never really turn up where we expected him to be.
Georgio is considered one of the most talented storytellers of his generation and will finally present his 4th story in 2021. Holy. Fueled by introspection and the writing of rituals, journeys and encounters, it balances the harshness inherent in current ills with beautiful poetic cues, ideally alternating rap and vocals for a moment of pure freedom.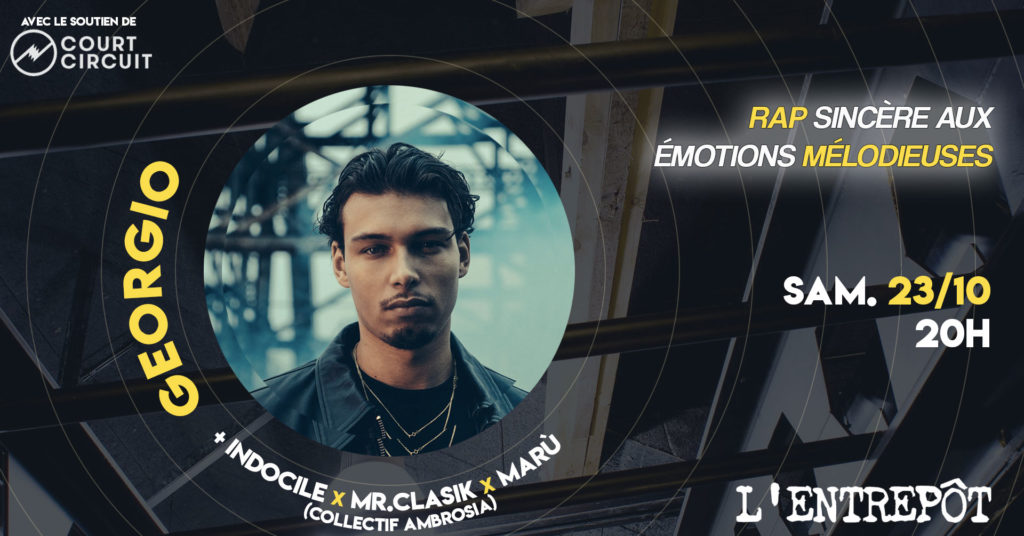 practical informationiks :
Schedule: Saturday, October 23, 2021
Admission: €20 online / €22 on site
UTICK TICKETS >> https://bit.ly/3gqs8dy
FNAC TICKETS >> https://bit.ly/2YDyosx