This Thursday, March 31st, Chariot issued a news release announcing an update to the post hole assay of the Anchois-2 well operated under the Lixus license off the coast of Larache.
Upon request from Médias24, Pierre Raillard, General Manager of Chariot, informs us that the prospects for the Anchois 1 and 2 wells have been revised upwards in terms of both potential and operating conditions.
Without quantifying the newly developed potential, he confirms that "engineering work is in progress". This work will define how the gas is brought to the surface and then to the processing plant to be routed to the distribution facilities.
"If everything goes well, the investment decisions will be made at the end of 2022, and production will start at the end of 2024," he confides. This corresponds to a very tight schedule, but it is possible.
Waiting for certification results
Chariot had drilled in December 2021 and January 2022. This included confirming the integrity and potential of the old well Anchois-1 and drilling a second well, Anchois-2, in an adjacent target area (see section below).
The results were considered interesting, encouraging and better than what was previously known. Regarding Anchois-2, Chariot announced a major gas discovery in January. ONHYM, which holds 25% of the permit, had stated in a press release that "further more in-depth analysis will be conducted to refine the assessment of the discovered gas potential."
Preliminary data interpretation in January favored the presence of significant gas accumulations in the appraisal and exploration targets of drill hole Anchois-2 with a total calculated net gas value of more than 100m versus 55m in the original Anchois-1 discovery.
This Thursday, March 31st, Chariot announced the encouraging results of the additional analysis, which basically read as follows:
– At the Anchois-2 deposit, the supplemental study confirms the presence of significant gas accumulations in the Anchois-2 well appraisal and exploration targets with a calculated net value of gas 150m against 100m in the previous review.
– The adjacent Anchois-1 and Anchois-2 deposits can be treated by the same and unique gas processing plant thanks to the constant composition of the gas, allowing for easy development.
– The gas found is "dry, excellent qualitywith more than 96% methane, in the seven gas reservoirs discovered, with no harmful contaminants such as H2S or CO2", supporting minimal gas treatment required in development.
Further analysis of the well data is ongoing to understand the positive impact on the gas resources.
Adonis Pouroulis, Chariot's interim CEO, announced an accelerated development plan in this area in a press release. "Our goal is to bring the development of anchovy gas online quickly. »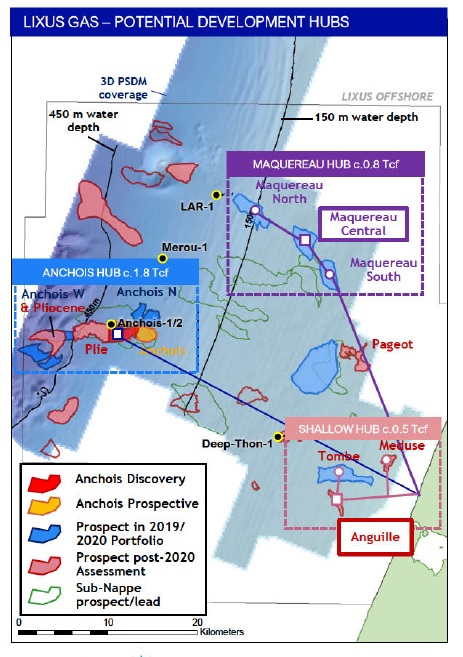 Source: Chariot Energy Group
Chariot announces a "significant gas discovery" off Larache
Gas: a discovery encouraging significant potential in the Larache area
Gaz de Larache: The director of Chariot in Morocco answers questions from Médias24