Are there flying spiders?
Arachnophobes may have cold sweats, but yes, there are flying spiders. Important clarification: However, these spiders do not have wings and the mechanism that allows them to fly has not been positively identified. But the fact is that some species of spiders can fly. They practice what is called "balooning" or "hot air balloon flight" in English, floating for tens or even hundreds of kilometers.
When an animal can have wings and cannot fly, as is the case with the ostrich, it seems very surprising that an animal can fly without wings. And yet! We have the example of the flying fish, the exocet, but also the flying squirrel or the flying sugar glider. But these animals actually float more than they fly. But what about these mysterious flying spiders that can fly impressive distances in mid-air?
How do spiders fly?
Several hypotheses have been put forward to explain this phenomenon. Scientists have long believed that these spiders hoist themselves to the treetops and then let the wind carry them thanks to a small web that resembles a hot-air balloon. But spider flight was also observed when there was no wind and even when it was raining.
However, a recent discovery has shown that flying spiders need a little boost… from static electricity. The researchers therefore wanted to know whether, in addition to aerodynamic resistance, there are other external forces that could trigger the "ballooning" and which sensors the spiders could use to perceive this stimulus.
To confirm this hypothesis, researchers at the University of Bristol conducted laboratory tests and exposed spiders from the family of Linyphiids to controlled electric fields equivalent to those in the atmosphere.
Exposed to the current, the little spider flew away very quickly after weaving its threads. But as soon as the ambient current was shut off, they immediately fell behind. What was previously unknown is that spiders can sense and respond to electric fields like bees, which can use their charge to communicate with the hive. However, the researchers think spiders likely use both wind and static electricity.
Also read:
Australia: Spiders believed to have disappeared due to island fires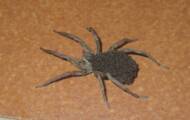 Should we fear the wolf spider and the eggs it carries on its body?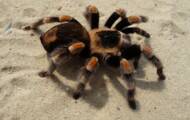 The tarantula, a surprising giant spider